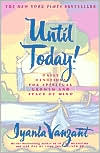 Until Today!: Daily Devotions for Spiritual Growth and Mind
by Iyanla Vanzant has been my A.M. reading for much of 2008 (Thanks, Sis). Having followed much of her career in print and on television, her "IT FACTOR" never before stood out to me; even to the point of passing up free and paid chance to see her in person. Timing really is everything!
"Game can only be gotten by one who can get it."
-------
EYE QUIT
eye quit
at the same time eye acquit
for charges accrued during
this amazing relationship
sharp nit-pick wit resonates
mostly hate, rare elation
please accept this measly poem
as sufficient resignation
-------